WE ARE CURRENTLY ONLY ACCEPTING PAYMENTS VIA CHECK OR POSTAL MONEY ORDER

When you place your order, choose Check/Money order option for instructions.
PLEASE NOTE!: THESE ARE CUSTOM DESIGNED CARDS! IF YOU ARE LOOKING FOR PLAIN, ORDINARY, SIMPLE, BASIC, OR ANY OTHER WORD THAT IS A SYNONYM FOR BORING, YOU WOULD BE BETTER OFF WITH A DIFFERENT CARD MAKER, I DONT LIKE THOSE WORDS =)

WELCOME TO THE BEST PLACE ON THE NET FOR YOUR CUSTOM AMATEUR RADIO QSL CARDS.
To help with some of the confusion, here is how the order process works. Once you decide the quantity size and style of cards you want, place your order. Next, if you already have a design you want to use, email it over. If you dont have a design yet, no problem. Email over any pictures (please make sure they are large photos) you would like to use on your cards along with any special info you would like put on them such as any club info and if you have a general idea on how you want the card laid out, send that over too. My email address is " email @ k4jsg.com " I already have most club logos and other insignia so no need to send those. I will respond back to you as soon as I get a chance to go over your information (usually within a few hours but may be a little longer depending on workload, so please be patient) to make sure the information you sent is sufficient. I will then design something up for you to check out. Once I send it to you, i will make any and all changes you wish on the cards. Once you are satisfied.. WE PRINT!
Outside of the US connected states please ask for shipping estimate before ordering.
OUR NEWLY DESIGNED PRINTING FACILITY IS PUMPING OUT ONLY THE BEST QUALITY CARDS AT THE BEST PRICES POSSIBLE. YOU WILL NOT FIND ANOTHER CARD AS GOOD AS THESE.
Still have doubts?... Search for K4JSG on EHAM.net reviews.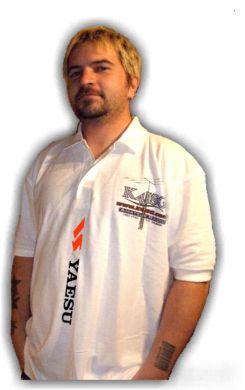 Tips and Donations are always Welcome!!